Mission
Our mission is to care for our patients by providing the highest quality comprehensive plastic and reconstructive surgical care through the application of new technology combined with proven methods, experience, commitment and safety.
Village pointe aesthetic surgery
Located just West of Village Pointe Shopping Center on the South side of Burke street, Village Pointe Aesthetic Surgery brings together Omaha's leading plastic surgeons: Dr. Ron Hollins, Dr. Perry Johnson, Dr. Jason Miller, Dr. Sean Figy, and Dr. Shannon Wong. We have the expertise and technology to offer you the latest, safest and most complete range of services, from facial rejuvenation to body contouring, liposuction and breast surgery. Our knowledgeable staff has years of experience caring for and advising people about both surgical and non-surgical options. We believe that open and honest communication between doctor and patient is very important, and we would love to consult with you even if you choose not to undergo surgery.
Dreams medspa
Located in the same beautiful building, Dreams MedSpa is a full service spa. We understand that time is precious and that your experience here will be defined by your results. Whether you are interested in peels or products like Botox/Dysport, CoolSculpting or other minimally-invasive procedures, we have everything you need under one roof.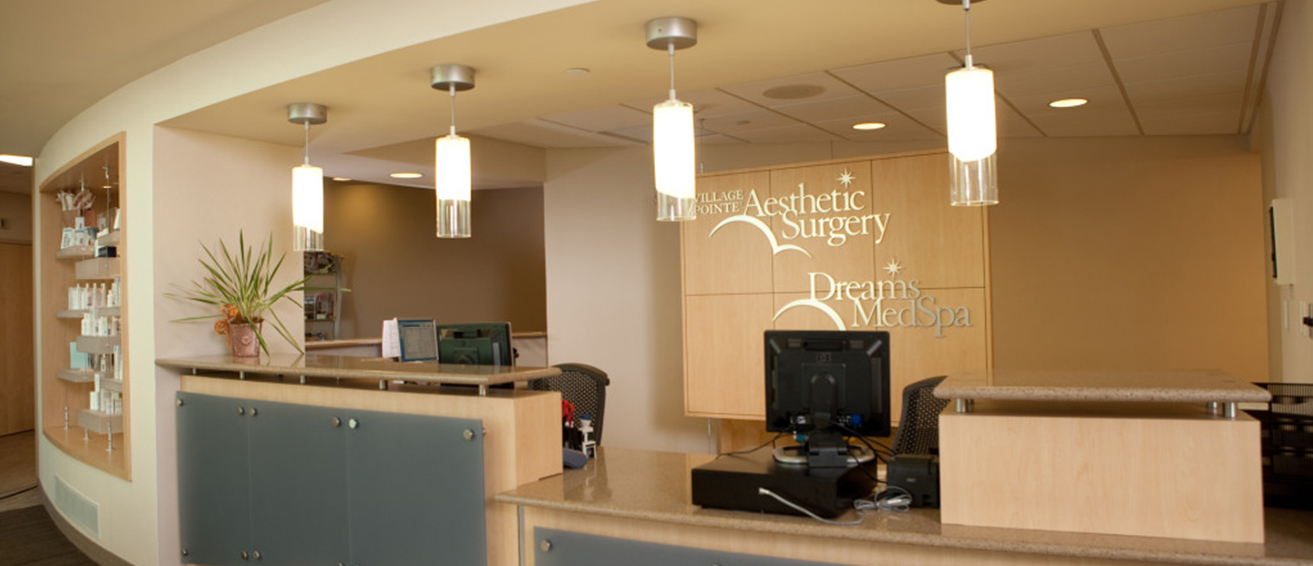 Real results. real difference.
If you've been contemplating plastic or cosmetic surgery, you probably have questions. Like, is it safe? What do I look for in my surgeon? And, how much does it cost?
More than that, you want to go to the best – the best provider, the best facility, the best care. You expect the best and you deserve it. After all, this is something you have probably been considering for a while now and you want to do it right.
Comprehensive services
We could say that our service listing sets us apart from other practices in the area. Our experienced estheticians provide peels, waxing, skin care treatments and product recommendations that make you feel good…and actually work!
Our knowledgeable aesthetic nurses and nurse practitioners administer Botox/Dysport and facial fillers and provide minimally invasive procedures such as miraDry, laser hair removal and CoolSculpting. The Dreams MedSpa is a medical spa, meaning we are managed and supervised by an on-site physician, so you know you are receiving services with proven results.
Finally, our expert physicians offer surgical procedures on all areas of the body, whether you are seeking breast augmentation, tummy tuck, nose reconstruction or facelift – just to name a few.
So, get comfortable. We are a one-stop spa and we are here to guide you every step of the way.
Number one in the state
We are proud of our local and national rankings because they highlight our unparalleled services and providers.
Yes, we are the number one injector in the state of Nebraska for Botox and Allergan facial fillers. What does that mean for you? Expert providers, competitive pricing and the assurance that you will be well cared for.
Yes, we are Allergan's number 54 in the nation (of 34,000+ practices) in terms of distribution of Botox, facial fillers, implants, CoolSculpting and SkinMedica products. Our practice in Omaha, Nebraska, is ranked higher than most Beverly Hills, California, practices. This is second nature to us.
And yes, our experienced plastic surgeons are all Nebraska Medicine providers. The Nebraska Medical Center is the only nationally ranked hospital in Nebraska according to U.S. News and World Report. Rest assured your safety is our number one priority.
Our people make the difference
But when you're shopping for the best care, it all comes down to one thing: our people.
You can't put a number or listing on the reputation, experience and expertise you find at Village Pointe Aesthetic Surgery | Dreams MedSpa. The moment you walk in the door, you are greeted by a staff of warm, helpful medical receptionists. Whether you are meeting with an esthetician, aesthetic nurse, nurse practitioner or plastic surgeon, you will immediately feel at ease knowing you are safe, communicated with and cared for in all the best ways. There's something about the staff here that you won't find anywhere else. Our job is to make sure your experience and results are exactly as you always imagined they would be.
Shopping for peels to plastic surgery is personal, and it all comes down to having the right person on your team. Are you ready to do something beautiful… for you? Learn more about our providers, review MedSpa services or book your complimentary cosmetic consultation today.